You'll Be Watching Amazing Spider-Man Movies at Least Five More Years
The release dates for a third and fourth film have been announced.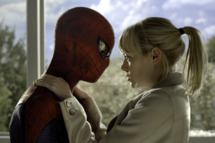 Sony Pictures Entertainment announced on Wednesday that new Amazing Spider-Man movies will kick off your summer every two years starting May 2, 2014, with the sequel. Then there's The Amazing Spider-Man 3 on June 10, 2016, and The Amazing Spider-Man 4 on May 4, 2018. (Let's hope they get some subtitles on those beasts.) Sony says Spidey is "our most important, most successful, and most beloved franchise." Slashfilm speculates that these concrete dates may mean an overarching storyline has been planned out.