'Blurred Lines' Director: 'I Don't Think the Video Is Sexist'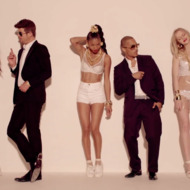 I wanted to deal with the misogynist, funny lyrics in a way where the girls were going to overpower the men. Look at Emily Ratajkowski's [the brunette] performance; it's very, very funny and subtly ridiculing. That's what is fresh to me. It also forces the men to feel playful and not at all like predators. I directed the girls to look into the camera, this is very intentional and they do it most of the time; they are in the power position. I don't think the video is sexist. The lyrics are ridiculous, the guys are silly as fuck. That said, I respect women who are watching out for negative images in pop culture and who find the nudity offensive, but I find [the video] meta and playful.
It is certainly true that the men look silly (see: T.I. and that hairbrush). As for Thicke's statement about the derogatory intent of the video, here is what Martel had to say:
That's crazy. Maybe he wasn't thinking when he said that.
Martel also answers a few questions about her other recent controversial video, Miley Cyrus's "We Can't Stop," which she defends on the basis of age and self-expression. ("She's vibrant, she's sexy, she's social ... She's 20!") Her overall theory, essentially, is that sexuality does not always equal debasement, even if it is being used to sell records. Which is hopefully a lesson that Robin Thicke is now repeating to himself.