After Earth Is No Match for Fast 6 at Weekend Box Office
Or for <em>Now You See Me</em>, for that matter.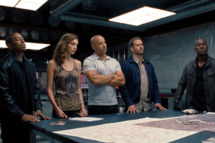 After its wild success over Memorial Day, Fast and Furious 6 coasted into this weekend's top  box office spot with $34 million, bringing its cumulative total to just under $170 million. Newcomers Now You See Me and After Earth fought for second place, but the wannabe magical mystery adventure ultimately earned the $27.5, beating Will Smith's love letter to Scientology by $1 million. After Earth's performance was disappointing, to say the least, as Smith's summer films have consistently opened with first place for nearly two decades. Meanwhile, May blockbusters Star Trek Into Darkness, The Hangover Part III, and Iron Man 3 fell to fifth, sixth, and seventh place (bringing their cumulative totals to $181 million, $87.1 million, and $384.5 million, respectively) proving that our movie-going attention spans this time of year are about as long as it takes to drink an iced coffee.