Next, Michael Bay Will Direct a Video-Game Movie
He's a natural choice for <em>Tom Clancy's Ghost Recon</em>.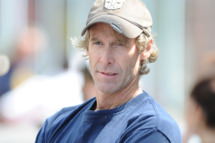 When he wraps up Transformers 4, Michael Bay is said to be heading to Warner Bros. to kick off what's likely to be a long and fruitful friendship by directing Tom Clancy's Ghost Recon. The film is based on video games about a fictional unit of the U.S. Army Special Forces that functions as the president's private army, taking down international threats. As Worst Previews reported, Ubisoft — which previously produced a live-action short film for Ghost Recon: Alpha with Ridley Scott — called Bay "a master at action movies" and is currently meeting with writers about a script. No word yet on whether or not Megan Fox will star.