Monsters Scare Off Zombies at Weekend Box Office
<em>Monsters University </em>took the top spot, but <em>World War Z</em> still did better than expected.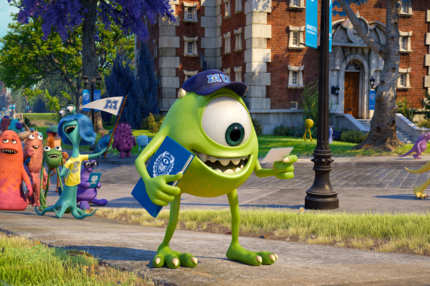 With weekend earnings of $81.1 million, Pixar's 3-D chronicle college life in Monstropolis beat out fellow newcomer World War Z for the top box office spot. (Worldwide total: $136.5 million.) Still, Brad Pitt's long-cursed 3-D zombie movie far exceeded everyone's low expectations, bringing in $66 million over the weekend. (It has now earned $112 million worldwide.) Last weekend's winner, Man of Steel, fell to third place with $41.2 million for the weekend, boosting its worldwide earnings to $398.3 million. This Is the End, also now in its second week, ended up in fourth place with $13 million for the weekend and a cumulative total of $57.4 million, while Now You See Me rounded out the top five with a $7.8 million weekend haul, putting its worldwide earnings at $134.4 million.