Mindy Kaling: This Season's Most Unexpectedly Great Physical Comedian
There's her rom-com expertise, and there's her work with stripper poles.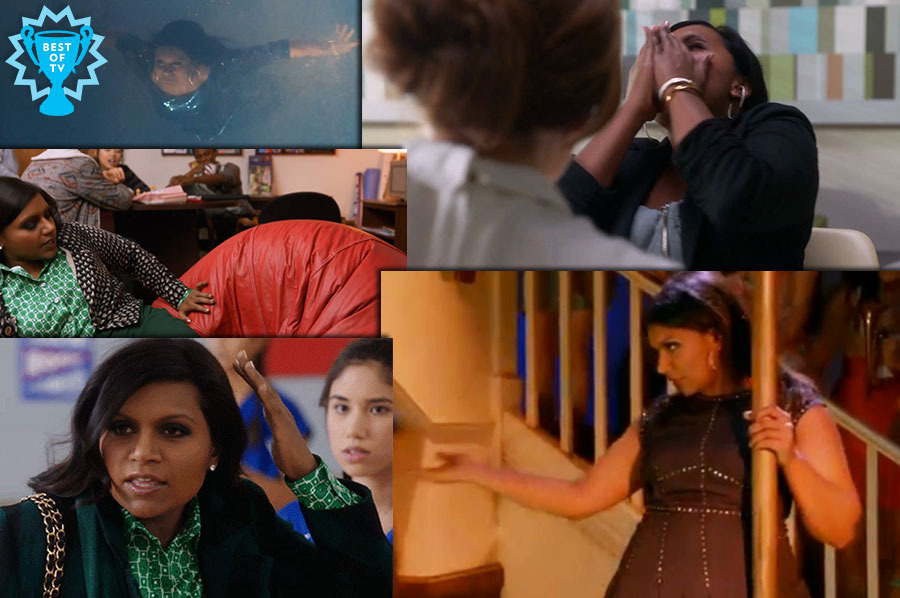 Everyone knows that Mindy Kaling does meet-cutes, pillow talk, and dating disasters better than anyone on TV. But the big revelation in The Mindy Project isn't that she can twist a rom-com trope a million different ways; it's that she's ready, willing, and able to fall off a beanbag and swing around a stripper pole in the least sexy way possible, and as unafraid to look foolish as Parks and Recreation's Chris Pratt or Modern Family's Ty Burrell. Pratfalls, it turns out, have always been her favorite laugh. "I love good written jokes, but the most memorable comedy moments for me have always been physical," Kaling tells Vulture. "John Cleese's bits on Fawlty Towers are probably my favorite. Basil Fawlty was so full of rage, and Cleese is gifted with these mile-long giraffe legs, which he would use to kick his employees sometimes and have tantrums. I remember once he beat his own car with a branch." We asked Kaling if she could discuss a few of our favorite physical sequences on her show — two of which involve shower scenes! — and she obliged. But first, let's look back at the highlights.
One of the first random acts of physical comedy Kaling performed on the show appears in the pilot episode with this drunken bike tumble into a pool (where she then hallucinates that she's being insulted by Barbie doll).
In "Frat Party," the penultimate episode of the season, Kaling inadvertently gets busy with a stripper pole that she had been attempting to tear down.
And she has also put her face at risk several times, as these three GIFs illustrate nicely.
But now, on to our top three Mindy blunders — with commentary from Kaling herself!
On getting trapped in Brendan's fancy shower in "Hooking Up Is Hard": "My rule is my character can only get dressed up and look pretty on the show if she either (a) immediately gets called a grotesque monster by another character, or (b) somehow suffers in a big theatrical, ugly-making way. And since I like wearing pretty clothes on the show, I have to suffer for it a lot. The price Mindy pays for snooping through Brendan's medicine cabinet is getting trapped in his shower. I was excited to get soaking wet. If Enlightened has taught me anything, it's the inherent funniness of streaked mascara and eyeliner. That's one thing women have over men: Our makeup gives us an advantage when looking wretched."
On poorly navigating the beanbag chairs in "Teen Patient": "The beanbags were a last-minute change we made to the scene, which was originally blocked on two benches. I have always hated beanbag chairs. Even as a kid, to me, they were 'Oh, this is a new level of lazy — I insist that my useless body rest on a sack of beans.' They are also impossible to look ladylike on, which was perfect for me in a skirt and heels. [Co-star] Ike Barinholtz and I had fun rehearsing on the chair, seeing which were the most awkward positions to sit in." 
On trying to have sexy time with Pastor Casey in the shower in "Frat Party": "I like when the show swings wildly from a genuine moment of romantic chemistry to mortification. The shower scene was easy and fun to shoot because I feel very comfortable with Anders [Holm], and we are good at improvising together. It should be distressing to wear soaking-wet flesh-colored underwear in front of another person for three hours, but not with him. He kind of spat water in my face and everything was really comfortable."