Your Sunday Long Reads: Rick Rubin and Huey Lewis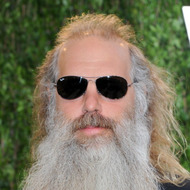 It's Sunday afternoon — your last chance to read all that stuff you were too distracted to read last week before Monday brings a new deluge of things you will want to read. Below, some of our recommendations:
"You Listen to This Man Every Day" by Andrew Romano (Newsweek): A long interview with Rick Rubin, the producer who worked on a significant amount of the music you've enjoyed from the past 30 years (assuming your taste ever touches the mainstream.) There's a lot of behind-the-scenes stuff, including some Yeezus tales.
"Huey Lewis's Old, Weird America" by Steven Hyden (Grantland): The man who gave the world "I Want a New Drug" is still out there, gamely touring for eighties nostalgists and answering questions about his unlikely — and once huge — musical career.
"Captive Audience" by David Peisner (Spin): How the music industry is making its way into American prisons. 
For more in-depth weekend readings, visit our friends at Longreads.