The Avengers 2 Will Be Loki-less
So sayeth Joss Whedon.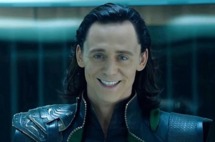 Alas, though he was burdened with glorious purpose, Tom Hiddleston's Loki won't be in The Avengers 2. Joss Whedon slipped the tidbit into a podcast chat with Empire on Friday, saying: "Everyone is going to be looking for the Loki-Hulk smash moment and you'll be looking for [a 'quim' moment]. First of all, imitating what I did before is the surest way to do it not as well. Second of all, Loki's not there to say those terrible things."