Watch David Edelstein Interview Joss Whedon As Part of Apple's 'Meet the Filmmaker' Series
"You can't get away from the influence of the greatest writer in your language."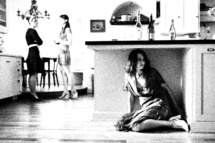 Last week, just a ten-minute walk away from the Vulture Headquarters, our movie critic David Edelstein interviewed Joss Whedon at the Apple Store in Soho. The pair talked about Whedon's new film, a modern, black-and-white version of Shakespeare's Much Ado About Nothing, which Edelstein gave a rave review, writing "it's the smoothest and most enjoyable of all Shakespeare comedies on film." Watch (or listen to) the entire 45-minute interview right here.