See the Wonderful Faces of Paul Giamatti in The Amazing Spider-Man 2
He's playing a character named "the Rhino."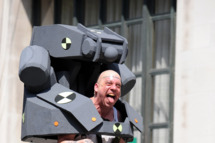 Yesterday it was announced that Paul Giamatti had joined the cast of Downton Abbey. Today, courtesy of ScreenCrush, there are photos of him on the Amazing Spider-Man 2 set dressed in a CGI rhino suit, proving that even though his body might be fake, his face needs no artificial help. It's called range, folks.