Comic-Con: Gillian Anderson Wishes Mulder and Scully Had Gotten It on a Lot Sooner
She says they shot a sex scene. It just never aired.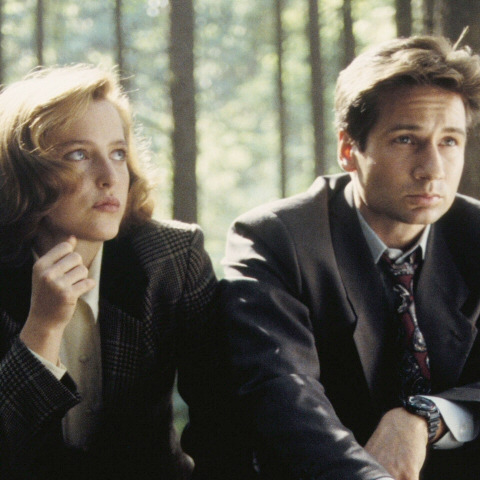 "I didn't realize Mulder was so cool until a few years later. Then I thought, 'Damn. Shoulda gone there sooner … ' Was I supposed to contain myself?" And with that, a fiesty Gillian Anderson set the 20th Anniversary X-Files panel Thursday ablaze. It's been two decades since FBI Special Agents Mulder and Scully first teamed up to investigate unsolved paranormal cases, but shippers never say die! So began a series of not-so-coy inquiries to the reunited Anderson and David Duchovny, who walked on to the darkened stage together bearing flashlights. First up: Mulder and Scully sex — did they have any? "I'm not sure we ever did, did we?" Duchovny joked. "Well, something happened," Anderson said. "Because we had a child." A beat. "We shot it, we shot it. It's somewhere." The crowd roared in approval. And Anderson appeared not to be bullshitting; no one else on the panel – which also included series creator Chris Carter and writers David Amann, Vince Gilligan, Howard Gordon, Darin Morgan, John Shiban and Jim Wong – said otherwise. Like the truth, a never-aired Mulder-Scully sex scene is out there. (So is their baby, played by the now-teenage son of Shiban. He came out on stage and briefly and waved to the crowd while Anderson looked on proudly. "He looks like me," she said.)
Carter revealed he too had the hots for Scully. "She was kind of my fantasy woman," he said. "Strong, smart, opinionated, resourceful, tough. Theirs was a fantasy relationship, too. As intellectual as it was anything else." Mulder fell for her from the very beginning. Looking over at Anderson, Carter said, "I think it was when you first walked into his office." The crowd awwww'ed as if on cue, and again when later Anderson claimed that she had made up some t-shirts with "COTR" written across the front of them — a reference to the infamous Conversation on the Rock in "Quagmire." They would allegedly be available to fans on the convention floor. (It's not clear if she was serious, but Vulture is investigating ... )
Perhaps sensing Anderson was especially game, the first fan to ask the panel a question went for something good and direct: "If Mulder and Scully were ever to go on a real-life date, what do you think they would do?" Anderson: "Have sex." Duchovny: "Then maybe dinner?" Carter: "I think maybe BBQ."
The panel's moderator, TV Guide Magazine's Michael Schneider, pressed the panel on the idea of doing more. Could the show return in a limited form? He pointed to 24, executive produced by Gordon, which is returning for thirteen episodes next spring, as one possible option. Duchovny sounded into it ("I always thought when we can do it, and come back together, we will,") but Anderson said she would not commit to a series. Another film, however, would be "great," she said. Carter was noncommittal, but offered a bit of hope. "I have to say, just being here and seeing all these people," he said, beaming at the audience. "You need to have a reason to go on, because it's hard hard work."