Are Comic-Con's Top Directors Souring on 3-D?
"I hate 3-D," moans Alfonso Cuarón ... whose next movie is coming out in the format.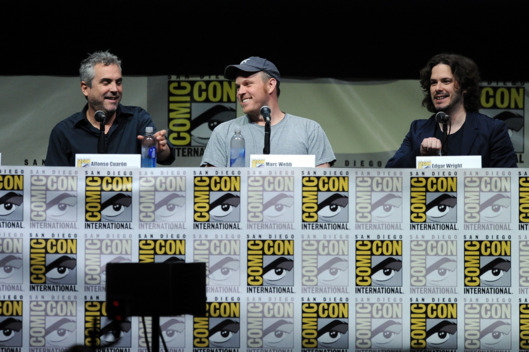 "I hate 3-D," moaned Alfonso Cuarón yesterday at Comic-Con. "The black and whites, they suck. It takes away the color, and it takes away the resolution." So why did Cuarón shoot his next movie, the Sandra Bullock–starring space epic Gravity, in 3-D? "Look, the movie took three and a half years to make," laughed the filmmaker. "At that time, 3-D was still cool."
Cuarón was sitting at the Hall H dais with fellow directors Edgar Wright (Shaun of the Dead, The World's End) and Marc Webb (The Amazing Spider-Man 2) for a panel on visionary filmmakers, and one thing all three men could agree on is that they often prefer for that vision to be unimpeded by 3-D glasses. "I go see a lot of movies at the cinema, and sometimes I choose to see the flat version," admitted Wright. "I think why most people are lukewarm on the format is because we've seen too many bad ones where it's been done after the fact. Sometimes I go out to see movies where it's become a very dark experience, and it just feels like another two dollars in your ticket. I call it a blockbuster tax."

Whatever you call it, audiences seem to be tired of the format as well: Though films like Avatar appeared to presage a 3-D revolution at the movies, increasingly, films earn less than half of their opening-weekend take from the 3-D format. When Wright touted his new action comedy, The World's End, with a cheeky "It's 2-D, kids!" the Comic-Con audience cheered unironically. It's not likely that 3-D will go away anytime soon — it's the preferred format for audiences in mainland China, a country that can add up to a hundred million dollars more to a film's overseas gross — but it's clear that U.S. audiences are grumbling about higher prices and diminished results.

"The controversy totally makes sense, because sometimes it's plugged on by the marketing people," said Webb, who shot his first Spider-Man movie using 3-D cameras but will be converting his sequel to 3-D in postproduction. "It's a very, very frustrating thing as a filmmaker to have that kind of pressure applied to your film."

And for these perfectionist directors who tinker over every frame, it's not easy to cede the look of your film to theater managers who show the movie at lower lighting levels than the filmmakers had intended. "I think the delivery mechanism for 3-D can be really volatile," said a clearly discontented Webb. "There needs to be bright lights, for instance, and really good screens. Any time that isn't very precise, it's frustrating, because the image is flawed. You only have so much control over that as a filmmaker, and that's very difficult."

"But it can be done really well," added Wright, who is prepping an Ant-Man movie for Marvel that will almost certainly be released in 3-D. "I'm not a huge fan of the format when it's coming out every week, but Life of Pi was great in 3-D. Avatar was great in 3-D. Hugo was great in 3-D. When it's done well, there's a reason for it."

And according to Cuarón, there was a reason for shooting his space adventure in the format, even if those blacks and whites aren't perfect. "In the case of Gravity, I prefer it in 3-D, with all of those misgivings. I prefer it because it was designed like that," said Cuarón. "Actually, the original screenplay, on the cover it said, 'Gravity, a space suspense film in 3-D.' It was designed to be in 3-D, and we worked very diligently to get that amazing 3-D."
And though audiences may bristle at the "blockbuster tax," those extra few dollars per ticket can make the difference when a studio like Warner Bros decides to green-light a risky movie like Gravity that isn't based on any preexisting property. "If we don't start making original films, there'll be nothing to remake in 30 years' time!" laughed Wright.
"Or five years' time," said Webb.