Christian Bale Not Interested in Justice League Movie
Time for a new Batman.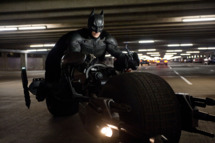 Christian Bale is serious about hanging up his cape. He's not doing more Batman! Especially not in a Justice League movie. "We were incredibly fortunate to get to make three [Batman films]. That's enough. Let's not get greedy," Bale tells EW. He says the Batman role is "a torch that should be handed from one actor to another," which has pretty much been the plan the whole time. There's no actual concrete timeline for a Justice League movie anyway — 2015? "not soon"? — so mostly this is a lot of Bat-fretting for nothing. If you feel the need to think about Justice League casting at all, think about who will play Wonder Woman. That is the real question.