Comic-Con: 10 Revelations From the Veronica Mars Panel
On hand were creator Rob Thomas as well as Kristen Bell, Jason Dohring, Chris Lowell, Tina Majorino, and the rest of the regular cast.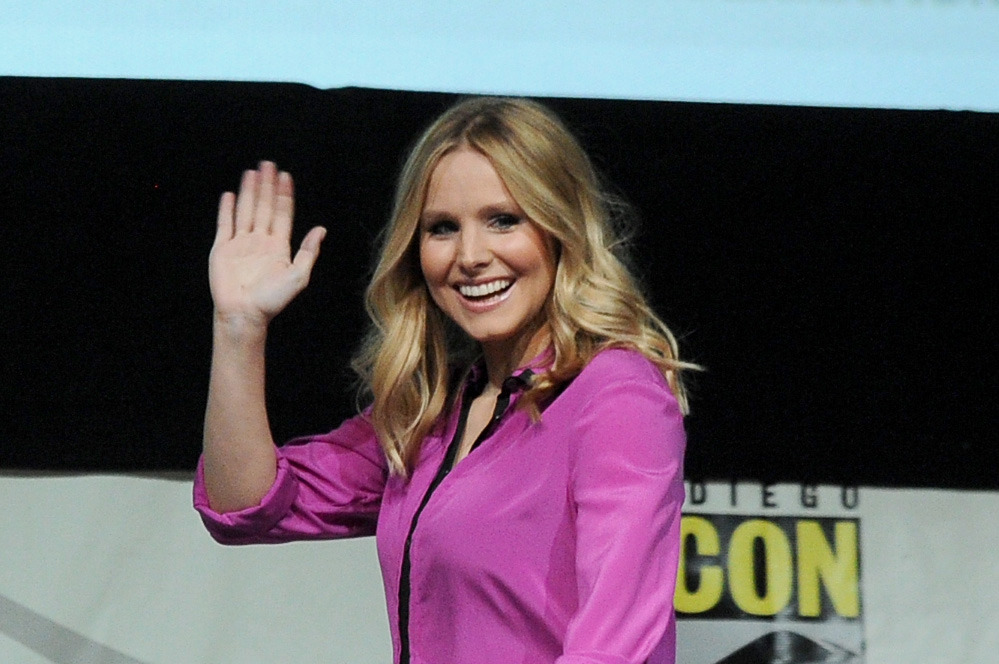 Fans made the Veronica Mars movie happen, and they turned out in force today at Comic-Con for the film's big panel, which showed off the first footage of Kristen Bell as the titular character since the UPN detective drama's 2007 cancellation. As the trailer for the film began to unspool, you could hear squeals all over Hall H; another fan made loud orgasm noises. (Suffice it to say, these fans want their Mars.) On hand were creator Rob Thomas as well as Bell, Jason Dohring, Chris Lowell, Tina Majorino, and the rest of the regular cast; here are ten things we learned there about the highly anticipated project.
So yeah, there's a trailer!
In an extended trailer cut just for Comic-Con, we return to Veronica, who's now a "big shot New York lawyer" lured back to Neptune for her high school reunion. ("You're legal now, right?" asks a lecherous Vinnie Van Lowe when she returns to town.) She brings old flame Piz to the reunion, then reconnects with Weevil — now married — as well as Logan and Dick; later, we see a shocked Veronica escape in a stairwell as gunshots ring out. Dun dun dun …

Jamie Lee Curtis is in the movie.
In the trailer Thomas showed, we first glimpse Veronica interviewing for a high-powered job … and Curtis is her interrogator. She's not the only unannounced cast member in the movie either, teased Dohring: "Rob's got a lot of other surprises that people don't know about."

The movie has an unlikely inspiration.
"It sort of has a Godfather III theme to it," said Thomas, "which seems odd. Why not pick Godfather II? It's a better movie." But what Thomas means is that just when Veronica thinks she's out of the detective business, she gets pulled back in.

Chris Lowell is Team Logan.
Though Lowell played Piz, Veronica's love interest after fan favorite Logan, he entered Hall H today wearing a Team Logan shirt, holding his hands up in supplication. "I wore this shirt today just so I wouldn't be shot when I stepped onstage, frankly," laughed Lowell, who said that when Thomas solicited him for the movie, he joked, "The death threats have almost stopped. Why now?" But don't worry, Piz fans: Dohring himself took the stage in a Team Piz shirt.

Rob Thomas is Team Logan, too.
"When I started writing the movie, I would get on my treadmill each day and watch an episode," said Thomas. Eventually, he reached the season-one episode where Veronica and Logan have their first kiss … and he broke down. "I rewound it and I rewound it and then my wife entered and I have tears in my eyes," Thomas laughed. "It was an embarrassing moment that I'm watching my own work and crying … but it just felt so earned to me!"

But Ryan Hansen is on another team altogether.
Not to be outdone by all the Logan love, Hansen unbuttoned his dress shirt to reveal … a Team Dick tee. The Dick jokes came so fast and easy that later, when the actors were asked which other Veronica Mars character they would like to play, nearly everyone answered "Dick" just so they would have their crack at the bat. (Enrico Colantoni, however, would have liked to play Vinnie Van Lowe.)

Bell had a doozy of a line on her first day back.
The actress says that she's never had any problem memorizing Thomas's dialogue, and she immediately proved it by reciting, verbatim, the first new line she spoke as Veronica on day one of the movie shoot. We presume it's said while in line for a drink at the high school reunion: "I can't decide between a Beast With Two Backs and a Donkey Punch. Ooh, do you think they'll let me order a virgin devirginator?"

Mac's got a crazy new haircut.
"Can we just take a minute and acknowledge how hot Tina looks?" said Bell at one point. Indeed, Majorino appears to be rocking this sort of Janelle Monae do in the Mars movie: shaved on the sides and pompadour on top.

Don't expect a whole lot of references to departed characters.
When a fan asked whether we'd hear anything about Lily, Beaver, or Duncan in the movie, Thomas replied, "The big answer probably is a no, and a lot of thought went into that … for the fans of the movie, there are a lot of Easter eggs in there that you'll appreciate a bit more because you watched the TV series, but I didn't want to put in a whole lot of mythology — references to Lily Kane or Duncan —because we wanted people who are coming in fresh. All people need to know is that when Veronica was a teenager, she had this weird job as a private eye."

The movie will immediately be followed by a sequel … of sorts
Thomas just inked a deal to write several new Veronica Mars books, and the first installment — due out shortly after the movie debuts — will pick up where the film left off. Does he still want to follow the movie with another movie, though? "Oh yes, I do!" said Thomas, grinning. "I want to be a Bond franchise."