The Conjuring Scares Up $39 Million at Weekend Box Office
Fellow newcomers <em>Red 2</em> and <em>R.I.P.D.</em> didn&rsquo;t fare as well.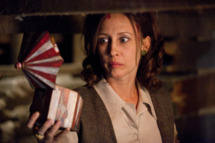 While this weekend's $200 million box office total was actually down 20 percent from last year, according to Deadline, the people who did make their way to the theaters favored The Conjuring. The realistic horror film, which cost only $20 million to make, won the weekend with a $39 million haul. Fellow newcomers Red 2 and R.I.P.D. didn't fare as well. The geri-action sequel came in fifth at the box office with $19 million, while the $13.1 million seventh-place opening of the ill-conceived Ryan Reynolds and Jeff Bridges movie restored our faith in America's taste level. Meanwhile, Despicable Me 2 finally got knocked down to second place with $25 million for the weekend, bringing its three-week cumulative total to $276 million. Rounding out the top five were Turbo and Grown Ups 2 in third and fourth place, respectively.