Of Course Lady Gaga Will Perform at the VMAs
And some other people.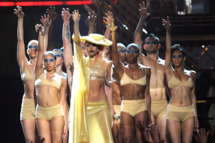 Her "comeback" single drops on August 19; the VMAs are August 25; and ARTPOP will be released in November. So yes, Lady Gaga will bring some sort of probably-food-based theatrics to the Barclays Center come August. Prepare for the Great Monster Revival.