Daniel Radcliffe to Play a Young Jon Hamm Again
As <em>A Young Doctor&rsquo;s Notebook &amp; Other Stories </em>will have a second season.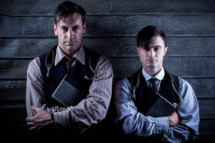 A Young Doctor's Notebook & Other Stories, the British dramedy about a young doctor during the Russian Revolution is getting a second season. Adapted from Mikhail Bulgakov's short stories, the series casts Jon Hamm as a reputable doctor and Daniel Radcliffe as his more bumbling, younger self. This season focuses on the young doctor struggling with a morphine addiction while being watched and criticized by his sober, older self. No word yet on when the young doctor will take human growth hormone and turn into a hunk.