Family Guy and The Simpsons Will Finally Meet in a Crossover Episode
Quahog or Springfield?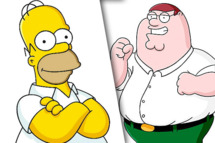 Future BFFs Homer Simpson and Peter Griffin will finally meet in an official crossover episode this fall. It's not the first time the two have appeared together, however; Homer had a brief cameo during Family Guy's eleventh season and Peter appeared quickly as a Homer clone in The Simpsons' "Treehouse of Horror XII". The only question remaining is whether the Griffins will be heading to Springfield or the Simpsons end up in Quahog. Road trip!