J. Cole Has the No. 1 Album (Because Jay-Z's Sales Don't Count Yet)
And <em>Born Sinner</em> has officially outsold <em>Yeezus</em>.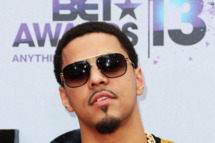 Jay-Z's Magna Carta Holy Grail is already platinum, but it does not feature on this week's Billboard "200," since the magazine decided not to count his million presold albums. So J. Cole's three-week-old Born Sinner gets the No. 1, with Wale's The Gifted dropping to No. 2 and Kanye's Yeezus all the way down at No. 3. It's also worth mentioning that Born Sinner has now outsold Yeezus (439,000 copies to 431,000, total), and that MCHG could outsell both of them in its first official week. Vaguely related: This is how Jay-Z pronounces Yeezus.