Jesse Tyler Ferguson and Justin Mikita Are Married
Congrats, gentlemen!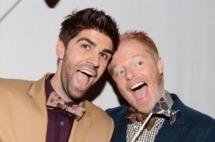 Jesse Tyler Ferguson and his boyfriend of three years, Justin Mikita, got married in New York City on Saturday. Ferguson, 37, plays Mitchell Pritchett, a lawyer, on Modern Family; Mikita, 27, is an actual lawyer. Tony Kushner, the playwright and screenwriter behind Lincoln and Angels in America, was the ceremony's officiant. ModFam's Julie Bowen hashtagged it #bestweddingever, so you can remove any doubt that you totally missed out.