League of Extraordinary Gentlemen Pilot Coming to Fox
Alan Moore won't be involved.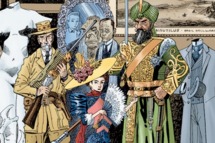 Fox has ordered a League of Extraordinary Gentlemen pilot, based on the Alan Moore comic about classic literary icons buddying up. The characters include Dr. Jekyll and Mr. Hyde, the Invisible Man, Dracula's Mina Harker, and Captain Nemo; the series was adapted into a Sean Connery movie in 2003. Moore, who wrote the source material for V for Vendetta, Watchmen, Swamp Thing, and From Hell, is generally opposed to adaptations of his work, and won't be involved.