Parenthood Sticking With Young Love
Matt Lauria is returning. Get it, Amber!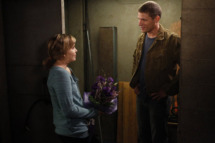 Sweet, precious Parenthood evaded death at the end of last season and will return this fall to fill our hearts with familial empathy and love-based nosiness, and now comes word that not only will Ray Romano be back but another Braverman love interest will, too. Matt Lauria, who plays Amber's devoted but occasionally volatile ex-boyfriend, Ryan, will be back for a "sizable" arc this coming season, according to TVLine. Now all the show needs is to figure out how to make Victor's story line at all reasonable and we'll be set.