Rashida Jones, Rob Lowe Leaving Parks and Rec [Updated]
Whaaaat!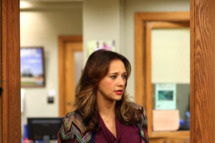 Whoa, bombshell, Pawnee fans: It looks like Rashida Jones and Rob Lowe are leaving Parks and Recreation. According to BuzzFeed, Jones and Lowe will make their exits on the season's thirteenth episode, which will probably air in February. Last season, Ann and Chris were trying to have a baby together, even though that plotline was sort of frustrating and did not really solve the Ann Perkins blandness crisis. Given that Ron Swanson is facing fatherhood this season and the show has already seen two couples from courtship to matrimony, there's not a ton of new ground to cover regarding romance and family-building, and maybe Ann and Chris had just run their courses. Still, though. Litrally a little sad about this.
UPDATE: Showrunner Mike Schur wrote a statement reading, "We absolutely love both Rashida and Rob, and will be sad to see them go. Rashida was one of the very first people we knew we wanted in the cast, and as important as Ann is to Leslie (and vice-versa), she'll certainly never be far from Pawnee. Rob we initially thought we could only have for six or eight episodes, and we couldn't be happier that he will have stuck around for 75. They are wonderful, funny, committed actors, they've been a huge part of the Parks and Rec family, and we think we have a great Pawnee send-off in the works for them." Deadline also hears NBC may be setting up a new series with Lowe.