Tonight at Soho's Apple Store: David Edelstein Chats With the Cast and Creators of Breaking Bad
Tonight at 7 p.m. at the Apple Store in Soho.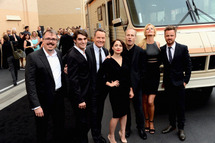 Our very own David Edelstein will be chatting with the cast and creators of Breaking Bad — Vince Gilligan, Bryan Cranston, and Aaron Paul — tonight at Soho's Apple Store at 7 p.m. While the event is designated as "full" on Apple's website, you certainly could pretend you're shopping for an iPod and catch a glimpse.