Steven Spielberg Working on New Grapes of Wrath Movie
It was only adapted once, in 1940.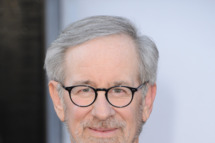 DreamWorks is trying to get the rights to The Grapes of Wrath from John Steinbeck's estate so Steven Spielberg can adapt the Great Depression tale. Unlike American classics like The Great Gatsby and Huckleberry Finn, Wrath has only been filmed once, in 1940, a year after the novel's publication. Deadline heard "Spielberg was eyeing it to direct, but DreamWorks said definitively that he is only interested in producing the picture, and will absolutely not direct it." DreamWorks? More like DREAM STOMPERS.