Terrence Howard Joins Shyamalan's Wayward Pines
As a sheriff in Idaho.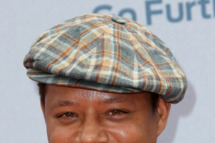 Terrence Howard has been cast in M. Night Shyamalan's Fox thriller miniseries Wayward Pines. According to The Hollywood Reporter, he'll play a local Idaho sheriff who is unhappy when a Secret Service agent (Matt Dillon) encroaches on his turf. (Just a reminder, every show is about a sheriff! It's a law now.) Of course the Secret Service agent uncovers more than he bargained for, and things are far more mysterious than they first seemed, etc., etc. Fox says Pines is "evocative" of Twin Peaks, which makes Howard the show's Harry S. Truman.