Topher Grace Joins Christopher Nolan's Interstellar
We've missed ya, T.G.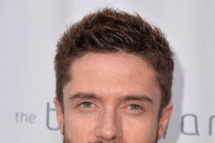 Guys, remember Topher Grace? He didn't really go anywhere. He's gotten roles here and there, like in 2010's Predators and this year's The Big Wedding — but he isn't a thing anymore. But maybe that will all change soon, as Deadline reports he has been cast in Christopher Nolan's next film, Interstellar. He'll be joining Matthew McConaughey, Jessica Chastain, Michael Caine, and Anne Hathaway, or as he'll call them, Thew, Ica, Hael and Anne (you can't really shorten Anne).