Comic-Con: True Blood's New Showrunner Wants to Bring the Show Back to Its Roots
He wants to rein it in.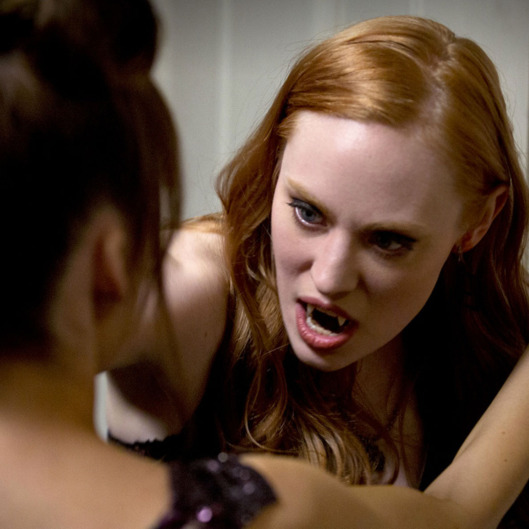 While still a very popular supernatural soap for HBO, True Blood has arguably (or inarguably, if you like) lost creative steam as its world has become more, well, supernatural. Humans are largely outnumbered by not only vampires but shape shifters, witches, werewolves, mediums, vampire gods, and vampire-faerie hybrids, and True Blood's new boss Brian Buckner says he wants to course-correct. Asked by a fan at the end of the show's Comic-Con panel Friday what kind of creatures he'd be adding in next season, Buckner disclosed his plans to scale back on all of that. "My honest answer to that is that I feel like this show is ultimately about the relationships between vampires and humans and it's about this town, and I actually want to bring it in," he said to more than a few cheers from the crowd. "My hope is to get all these people we love living under the umbrella of one story and one threat." More cheers.
Buckner took over the show mid-season and has apparently already started to do his thing. He said of this season's upcoming finale: "You're going to feel that the show is going to return back to its roots and be about this gang of people living in Bon Temps. We're going to try and condense the number of stories we're telling and really make this feel like we're going home."
In the meantime, however, here's a quick hail of teases for the upcoming episodes! Pam is probably okay following her death match with Eric. "Pam is scrappy," Kristin Bauer Van Straten laughed. "I can take him." She also won't take too kindly to her new sister Willa: "Pam doesn't play well with others." Sookie might still be into Warlow, even though he's the reason she found out her parents had planned to kill her. Jessica won't get over having drained Andy's kids any time soon (and neither will Andy!) And Sam and Nicole will totally get it on in the shower ... as you can see for yourself in this new trailer straight out of Comic-Con: