Amber Tamblyn Is Two and a Half Men's New Woman
She's Charlie's daughter.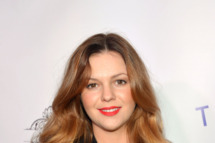 Two and a Half Men, down a half-man with Angus T. Jones departing before season eleven, has added Amber Tamblyn (Joan of Arcadia, House M.D.) as Charlie's secret daughter. "Jenny has moved to L.A. to pursue acting and connect with what's left of her family. In a twist, she likes everything her dad liked, including women. For now, Tamblyn is set to recur in five episodes," Deadline says, adding that if Tamblyn's a hit, she'll likely become a full-on co-star. Just in case you missed that buried lede, Jenny is gay. Surely Men will handle that with grace.