What to Stream This Weekend: Breaking Bad Prep Edition
<span>Movies, documentaries, and bite-size morsels that will all inform different aspects of your viewing of Walter White's return</span>.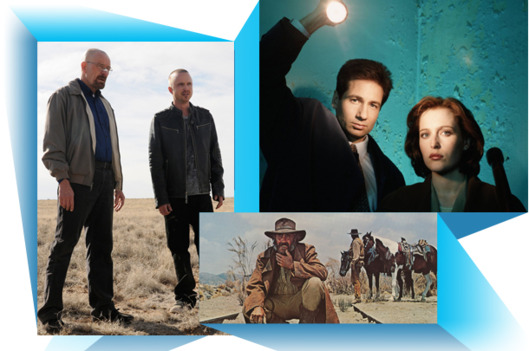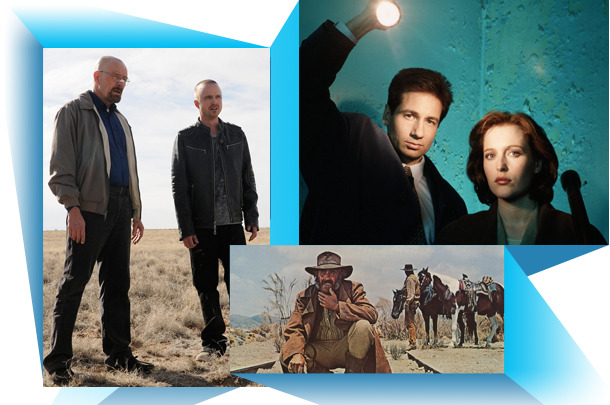 Every Friday, Vulture tries to make your life easier by narrowing your billions of movie and TV streaming options down to a handful of heartily recommended options to watch. This weekend, it will be hard to do anything but count the minutes until Breaking Bad's midseason premiere on Sunday night, so why not spend your time with a bevy of options that will serve as an apt warmup to the main event? And so, please sample from this menu of movies, documentaries, and bite-size morsels that will all inform different aspects of your viewing of Walter White's return. (And if you need to spend your time catching up on the first half of season five, that's streaming right now on Netflix.)

The X-Files
Before Breaking Bad, creator Vince Gilligan spent eight years working on The X-Files, writing 30 episodes of the series and earning producer credits from season four on. While The X-Files had aliens and conspiracies on the brain, Gilligan was a keystone that kept the show's feet on the ground. His first episode, "Soft Light," from season two, dabbled in the supernatural, with Mulder and Scully investigating a man terrorized by his own shadow. His most revered work, even for Gilligan himself, is season three's "Pusher." Gilligan created his own Hannibal Lecter out of Robert Modell, a master of suggestion who could talk people into committing suicide. There's shades of Walter White in Modell — he's completely unsympathetic, yet recognizably human. No extraterrestrial forces required. (Available on Netflix, Amazon, Hulu Plus)
Frontline: The Meth Epidemic
As Walter White fully formed into the deadly kingpin Heisenberg, the human side of meth disappeared. Breaking Bad focused squarely on Walt's personal and business problems — not where the blue rock wound up, or who it affected. To remind us that meth is not just a deep blue plot device, but also a crippling, addictive poison that dissolves minds and tarnishes families across the U.S., PBS took to Oregon — an epicenter even more frightening than Albuquerque — to showcase just how the drug rips its users in two. According to one cop in the 2006 documentary, one puff of a pipe can keep a person high for a day. The downward spiral is inevitable and violent. PBS interviews addicts who are technically alive, but not behind the eyes. Harrowing doesn't begin to describe it. Necessary viewing that complicates our friend, Walter White. (Available on PBS.org)
Once Upon a Time in the West
Spaghetti westerns are a clear influence on Breaking Bad, with Sergio Leone's 1968 magnum opus functioning as the AMC series' stylistic foundation. It goes beyond dropping Walter in the middle of New Mexico's blazing hot sun, readying himself for a standoff: Once Upon a Time in the West informs the structure, right from the haunting pre-title scenes that speak volumes without uttering a word. The movie is also present in the framing of faces, finding the perfect distance to show a broken man ready to do whatever it takes to survive. And occasionally, West rears its head with blunt force: Walter's new crony Todd absorbed the spirit of Henry Fonda in the film when he shot an innocent person dead in the final moments of last season's "Dead Freight." (Available on Amazon Prime, Netflix)
Inside the Writers' Room: "Breaking Bad"
Community star and The Way, Way Back writer/director Jim Rash's new interview show on the Sundance Channel is for serious TV buffs. In the first episode, Rash picks the brains of the writing staff of Breaking Bad — a crack team of wordsmiths who rarely share the spotlight with Gilligan and Bryan Cranston — and the results are revealing, playful, and poignant. Television is a team sport, and it's a pleasure to see this group take a victory lap. (Available on Sundance Channel, iTunes)
Wilder Napalm
Gilligan's first produced screenplay emerges from the depths of obscurity, where it settled in after making zilch at the box office. It's a weird cookie, but the right kind of weird that later made Gilligan's X-Files entries and Breaking Bad genre-shattering. The 1993 movie, directed by Glenn Gordon Caron (creator of TV's Moonlighting), stars Dennis Quaid and Arliss Howard as two brothers with pyrokinetic abilities. Quaid's Wallace is a clown; Howard's Wilder runs a photo booth at a mall; the girl they're both fighting for (Debra Winger) is horny and under house arrest. Most scenes are excuses for the two leads to dance around maniacally and set things on fire — which is fine, when the dialogue and action is Gilligan in madcap mode. (Available on YouTube)
The Complete Breaking Bad Webisode Collection
Leading up to season two, AMC released five "minisodes" that played up the comedic elements of the show. Penned by Breaking Bad writers, the shorts answered such lingering questions as "How terrible is Jesse's band Twaughthammer?" "Can Badger actually pick a lock?" and "What happens behind the closed doors of Hank and Marie's bedroom?" The bite-size character moments were so well-received, AMC.com continued to produce videos that wouldn't fit in the framework of a normal episode, including an animated adventure with Jesse's "Dr. Chemistry" superhero and a handful of "Better Call Saul" testimonials. (Available on AMC.com)
Goodbye, Mr. Chips / Scarface
After six years of hearing Gilligan use the overarching "turning Mr. Chips into Scarface" Walter White arc analogy, it's time to watch/revisit these bookends. On one end, Goodbye, Mr. Chips, a 1939 drama chronicling the career of a down-on-his-luck teacher overflowing with love and kindness. Robert Donat won an Oscar for the titular role, a man who shares Walt's magnetic attraction to heartbreak while ultimately finding a path that doesn't involve retaliation against the cruel world. On the other side of the spectrum, Brian de Palma's 1983 gangster film remake spawned a dorm-room-poster phenomenon. The key to Scarface is that there's nothing tough about Tony Montana. He's a fake with a loud bark and a money-making opportunity. Like Walter, Al Pacino's interpretation of the Cuban gangster acts out of defense until he's seduced by the criminal lifestyle. Pulling the trigger on a machine gun ends up being easier than saying "no." (Available to rent on iTunes, Amazon)
And for your crossover entertainment: In the below Scarface clip, watch Tony Montana shoot a young Tio Salamanca!