Clint and Dina Eastwood Are Separated
After seventeen years together.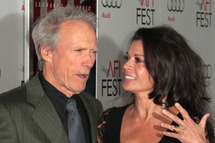 Clint Eastwood, 83, and his 48-year-old wife Dina have separated after seventeen years of marriage. TMZ hears (from Dina, no less), that "the two remain close but have been living apart now for some time." No explanation why (was it the reality show?), but there's a messy mention of Dina entering rehab for anxiety and depression over the state of things. The Eastwoods have a 16-year-old daughter together, Morgan.