Community Cast Jonathan Banks
As a criminology professor.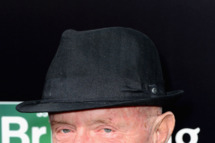 Breaking Bad's Mike Ehrmantraut might be on a, uh, trip to Belize, but Jonathan Banks is taking a trip to Greendale. Banks will be on eleven of the thirteen new episodes of Community this coming season, according to EW. He'll play Annie's "intense" criminology professor — and if Annie's brief stints as a security officer and a faux prosecutor are any indication, this class is going to be her jam.