Elmore Leonard Is Recovering From a Stroke
The 87-year-old crime author is working on his 46th novel.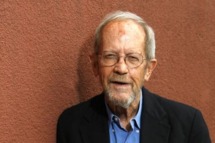 Elmore Leonard, the 87-year-old crime author behind nearly 50 novels, is in a Detroit hospital recovering from a stroke. "He's doing better every day, and the family is guardedly optimistic. He's showing great spirit," says Gregg Sutter, Leonard's researcher of many years. Sutter adds that Leonard is well into his 46th book, "working very hard." Leonard's novels birthed the hero of FX's Justified; he also wrote Get Shorty as well as Rum Punch, which Quentin Tarantino adapted into Jackie Brown.