Tina Fey and Amy Poehler Have Been Asked to Host the Golden Globes Again
All together now: squeeeee!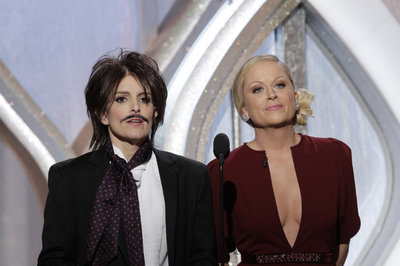 Since this year's Amy Poehler and Tina Fey–hosted broadcast of the Golden Globes did really, really well for NBC, it's no surprise that the peacock and producer Dick Clark Prods are asking them to come back again next year. Deadline reports "there are no active conversations between the network and the funny ladies," but that the besties "have received an informal invitation [not a formal offer] as NBC and DCP are looking to gauge their interest." Barring a conflict in the twosomes' very busy schedules — Fey just sold two pilots to two networks and Poehler is both starring and producing Parks and Rec — we can't imagine why they wouldn't come back for the 2014 telecast. Or rather, we don't want to imagine it. Ideally, we'll all wake up one day soon and read this headline once more, so please say yes, ladies! Please?