Thanks to Orca Documentary Blackfish, Finding Nemo Sequel Gets a Change of Ending
They removed the animal cruelty.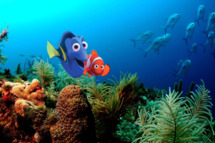 After the release and reaction to the documentary Blackfish, one that prompted a critical look at SeaWorld's orca treatment and practices, Pixar has altered the ending to the Finding Nemo sequel, Finding Dory. The initial ending "involved a marine park," a Pixar employee told The New York Times, which has now been "restructured so that the fish and mammals taken to [the] aquatic center have the option to leave." Ah, yes, just like how aquatic centers normally work.