Futuristic Prison Drama Heading to NBC
From Seth Grahame-Smith and Greg Berlanti.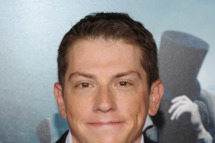 Pride and Prejudice and Zombies author Seth Grahame-Smith has sold a show to NBC with a put pilot commitment. He and producer Greg Berlanti are teaming up for Paradise, a futuristic prison drama, according to Deadline. The show is set in the late 21st century, and Las Vegas has been turned into a massive prison called Paradise; when a doctor finds himself wrongly convicted of murder, he decides he has to become the first person ever to escape the facility. Maybe he can get a super-elaborate tattoo that's secretly the blueprint of the prison ...