Jimmy Fallon Will Do for Breaking Bad What He Did for Game of Thrones, Downton Abbey
"Joking Bad," appearing on <em>Late Night</em> come September.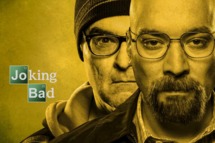 After successful, much-Tumbl'd parodies of Downton Abbey and Game of Thrones, Jimmy Fallon and his Late Night crew have a Breaking Bad send-up coming this September. It'll be called "Joking Bad," so hopefully it's funny, otherwise the criticism's right there in the title. Meanwhile, if you need one more photo of someone doing their best "Walter White in a yellow hazmat suit," here's Jimmy's take.