Kanye West Taped an Interview for Kris Jenner's Talk Show
You can't say no to your baby's grandmother.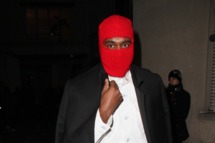 When your baby's grandmother asks you to appear on her new talk show, you're obligated to say yes, no matter how much you shy away from interviews, the media in general, and participating in Kardashian-affiliated programming. So it is that Kanye West will appear on an episode of Kris later this week (airtime TBD), chatting with Mama Jenner about "his baby girl, falling in love with Kim, and dealing with the press." If that's actually how it plays out, it could be a must-watch. EW's got a photo from the set; Kanye's pretty smiley.