MGM in Talks With Director to Remake Ben-Hur
<i>Wanted</i>'s Timur Bekmambetov.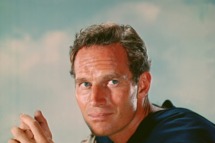 As these things go, MGM is considering remaking Ben-Hur, and Deadline reports Timur Bekmambetov is in talks to direct. MGM, who released both the 1959 Charlton Heston–starring Ben-Hur and the 1925 silent film Ben-Hur: A Tale of the Christ, bought a script for a new adaptation of the 1880 Lew Wallace novel Ben-Hur: A Tale of the Christ from The Way Back writer Keith Clarke back in January. Bekmambetov's last film was Abraham Lincoln: Vampire Hunter, so maybe we'll see Ben-Hur fighting some Roman vampires. Finally!