Michael K. Williams Joins Spike Lee's Kickstarter Movie
<em>This</em> is where your money's going, backers.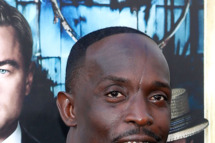 Omar's coming to a Spike Lee joint. After succeeding last week in his campaign to raise the money for his next film through Kickstarter, Spike Lee has $1,250,000 plus to good use: He effusively announced that Michael K. Williams has been added to the cast. He joins Zaraah Abrahams. The Kickstarter ends at 12:15 p.m. EDT, so head over there right now to throw in some money to get MKW a nicer trailer.