Parks and Recreation Casts Billy on the Street Host Billy Eichner
As alternate-universe Donna.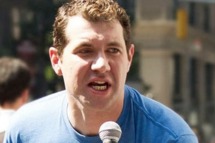 Parks and Rec has a sixth-season episode coming up where we'll meet Eagleton's alternate-universe version of all our Pawnee faves. We've got Kristen Bell as Leslie Knope, The Big Lebowski's Sam Elliott as Ron Swanson, and now Billy on the Street host/screamer Billy Eichner as ... Donna Meagle. While you work on figuring that out (does Eichner just scream "TREAT YO SELF!" nonstop?), here's this, too: Showrunner Mike Schur says Aziz Ansari's doppelganger is a secret. "It's not who the actor is — it's the concept behind it."