Poltergeist Remake Looks to Add Sam Rockwell
He would join Rosemarie DeWitt.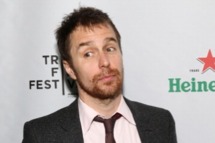 Director Gil Kenan (Monster House, City of Ember) is doing a Poltergeist reboot with Rosemarie DeWitt as one of his stars. Now Sam Rockwell (Moon, the Way, Way Back) is in talks to play DeWitt's husband, the patriarch of a family being haunted by an annoying ghost. Sam Raimi will produce; Oz: the Great and Powerful's David Lindsay-Abaire wrote the script. And just for funsies, here's IMDb's current description: "A remake of the 80's horror movie, now they are back for another haunting!"