Even Before They Canceled, Daft Punk Were a Pain for The Colbert Report to Work With
As Stephen Colbert explains in a frank conversation about the event.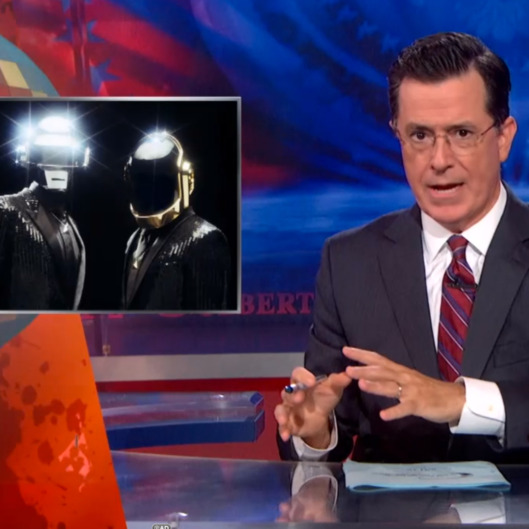 Last week, Stephen Colbert famously had Daft Punk booked to appear on The Colbert Report, only to have the higher-ups at MTV Networks force them to back out at the very last minute because of the group's planned surprise performance on the upcoming Video Music Awards. Colbert explained a bit of what happened on the show, but he really gets into it on a recent episode of "The Paul Mecurio Show" podcast. It's a very interesting interview that explains just how much of a pain this whole thing was even from the start. 
Colbert tells Mecurio that after booking Daft Punk, the band had certain problematic restrictions: They wouldn't talk and they wouldn't perform. And then when Colbert thought of a workaround — which included the delightful video we eventually saw — DP said they didn't like the script. Colbert and his writers spent all weekend working with DP and by Monday they had something, which was when MTV told him that they couldn't have DP perform. Also, during this back-and-forth, Colbert heard that Robin Thicke was available and booked him with the intention of having both Song of the Summer candidates on the show. However, at first MTV also said no to letting Thicke on because he too was scheduled to appear on the Video Music Awards. Still, Colbert found it all a fun, exciting, creative exercise. Listen to the interview here (the Daft Punk stuff takes place from 24:15 to 47:45) and then watch the dance montage again because it is and will always be the best.