Who Said It: Tony Montana in Scarface, or Walter White on Breaking Bad?
Say hello to my little friend. His name is Jesse Pinkman.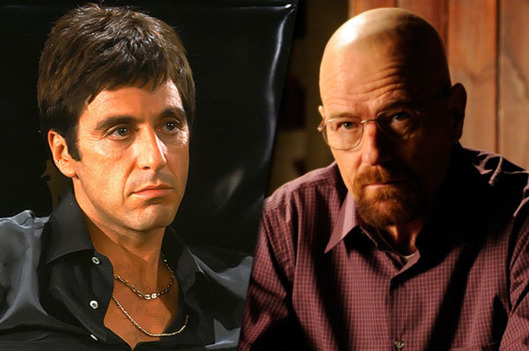 "From Mr. Chips to Scarface." It's Vince Gilligan's oft-cited description of Walter White's character development on Breaking Bad — mentioned so frequently in fact that the exhibit on BB at the Museum of the Moving Image is called just that. Which got us thinking: Just how much like Scarface is Walter White? As the show has progressed, is Walt really turning into Tony Montana? The biggest difference, other than Albuquerque vs. Miami, is that we haven't seen Heisenberg get eyeball deep in a mountain of cocaine — and so far, no tigers on the White property. For all other manners of similarity, though, we present this quiz. Who said it: Walter White, or Tony Montana, in the 1983 Scarface?