Star Trek Writer Duo Alex Kurtzman and Roberto Orci Probably Sticking Around
Third time's the charm.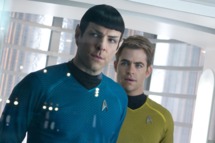 J.J. Abrams's frequent co-conspirators Alex Kurtzman and Roberto Orci are negotiating to write their third Star Trek movie. "Rumors swirled that other young writing teams were being courted for their takes," writes THR. "But Paramount shifted gears recently and is returning to the duo that breathed new life into the moribund franchise." Would this have any effect on whether Abrams, busy with Star Wars: Episode VII, returns to direct? Probably not, but maybe.