Here's an Idea of What to Expect From Toy Story of Terror
It's a half-hour long <em>Toy Story</em> special airing in October.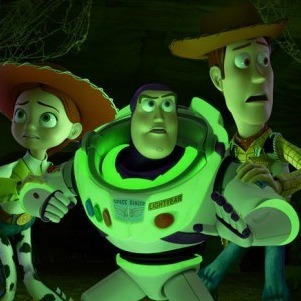 Were you up to date on the fact that Pixar has a Halloween special called Toy Story of Terror coming to ABC on Oct. 16? It will be a half-hour long and, if you've seen any of the other post-Toy Story 3 shorts, it could be great. /Film saw the first ten minutes at Disney's D23 expo and confirms that many former cast members — Tom Hanks, Tim Allen, Kristen Schaal, Wallace Shawn, Joan Cusack — are back, and there's voice work from Carl Weathers (Combat Carl and Combat Carl Jr.) and Stephen Tobolowsky.
"Toy Story of Terror will follow the gang embarking on a trip to Bonnie's grandmother's house," /Films writes. "During an overnight detour to a roadside motel, one of the toys goes missing, and strange events befall the others as they try to avoid meeting the same fate." There will be a strong horror movie homage vibe, including eerie narration from Timothy Dalton's Mr. Pricklepants. IGN also watched the ten-minute preview, and opines that the special "looks like a worthy addition to the franchise."