In Utero Anniversary Release Includes Previously Unheard Instrumental
Called "Forgotten Tune," believe it or not.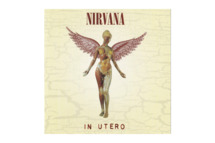 The upcoming twentieth anniversary rerelease of Nirvana's In Utero will include a never-before-heard instrumental song, according to Rolling Stone. The song is called "Forgotten Tune," which is almost too perfect, and was recorded at a rehearsal. The three-disc set will also include the first legally released versions of producer Steve Albini's mixes of "Heart Shaped Box" and "All Apologies," as well as a slew of B-sides and remixes. Are all these additional tracks enough to quiet the spiritual panic that comes with realizing In Utero is twenty — t-w-e-n-t-y — years old? No, not quite.