Walking Dead Governor David Morrissey Gets His Own AMC Show
<em>Line of Sight</em>, from Jonathan Demme and Blake Masters.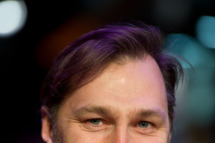 David Morrissey, known to you and yours as the Governor on The Walking Dead, is about to double down with AMC. Morrissey's been tapped to star in Line of Sight, which conveniently films in Atlanta, same as Dead. From Brotherhood creator/writer Blake Masters and director Jonathan Demme, the new series centers on "a National Transportation Safety Board investigator who survives a mysterious plane crash, bringing him on an emotionally disorienting quest to discover the accident's cause." It allegedly won't require the Governor getting axed during Dead's fourth season, but ... we'll see.