Will Forte, Champion Smoocher
The flu couldn't stand in the way of his Mumford video.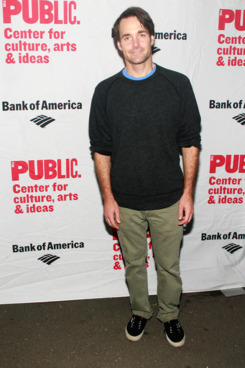 Last week, the new Mumford & Sons video took the Internet by storm, thanks to jokey lip-synched performances by Jason Bateman, Ed Helms, Jason Sudeikis, and Will Forte. But making the video wasn't all joke times and rustic barns, Forte says. Vulture caught up with him last night at the Public Theater's opening of Love's Labour's Lost, and he gave us the inside scoop.
"I had the flu that day and it was such a bummer cause it was such a fun experience and I had to in-between takes go and lay down," he told us. "It was very pleasant though, because I was laying down with the chills and a fever and Ed Helms was just picking away at the banjo. It was the most pleasant having-the-flu experience I think I've ever had."
Luckily, despite the illness, Forte still found the strength to kiss Jason Sudeikis many, many times. "Oh, we had to do tons of takes," he said. "When it comes to kissing, we are real perfectionists, Jason and I, so we really wanted to get it just right." Does kiss-perfectionism require a specific style of smooch? The slow-romantic kiss, or a more aggressive lip-lock, say? Nothing in particular, Forte says. "We tried every style."