And Your 2013 Song of Summer Is …
It rhymes with "Slurred Wines."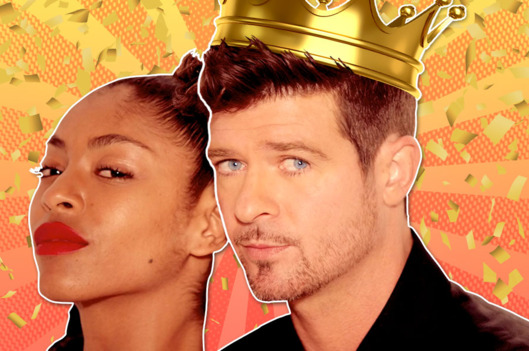 Robin Thicke's "Blurred Lines." Which you already knew: The very definition of the Song of Summer contest means that you can predict it weeks or even months in advance. The winner should be familiar to the point of exhaustion — except that somehow, the magic of the particular song means that you are still willing to get up and dance when it starts (especially if you're at a wedding, and all your aunts and uncles are losing their minds). It is the song that we all agree to listen to one more time, even in August, when one more time is like the 80 millionth time.
Though it's strange to remember now, "Blurred Lines" really had to work for the Song of Summer title. Daft Punk's "Get Lucky" was a serious contender through June, and Miley Cyrus made a strong play with "We Can't Stop." Then the "Blurred Lines" video backlash began, and Thicke himself had to make up for an unfortunate interview about the song's misogyny. His label didn't even like the song at first. But here we are, with nine weeks at No. 1, countless parody videos, and a crucial Roots xylophone endorsement. (See also: "Call Me Maybe.") "Blurred Lines" is your champion. Congratulations, Robin Thicke! (Congratulations, Pharrell.)